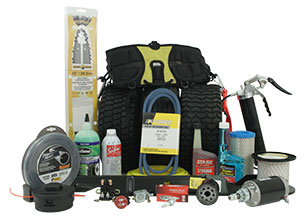 Turf Parts from A&I Products
A&I Products has partnered with Sunbelt Outdoor Products to provide an extensive line of lawn and garden and truf products.
The Turf Parts catalog offers a wide range of parts for a variety of outdoor power equipment for almost every major brand of equipment. Whether it's a push or walk-behind mower, lawn tractor, string trimmer, stick edger, chainsaw, utility vehicle or all-terrain vehicle.
We stock a wide variety of products. Get your XHT and Predator Lawn Mower Blades, SuTong Hi-Run Tires, Timber Ridge saw chain, and much more. Additionally, we offer an extensive line of Arborist products and accessories.