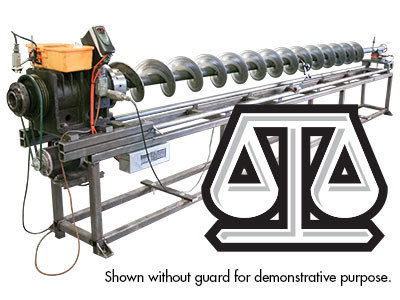 Equip your combine with replacement augers from A&I Products. A&I Products offers over 260 different combine auger part numbers for Case-IH, John Deere, Gleaner, New Holland, Massey Ferguson, and Challenger.
A&I balances augers 8' & longer using precision technology
Assembled in Rock Valley, Iowa
Tube ends are machined in-house on a CNC lathe and are heat treated before they are finish welded to the tube or shaft
Auger tubes are aligned in the balancing machine prior to flighting installation
A&I utilizes precision roll formed Super-Edge flighting in 3/16" or heavier gauge material on most models. After welding, the augers are installed in the balancer and spun at 250 - 400 revolutions per minute (RPM) depending on the OE application. Augers are spun in three cycles with software identifying what adjustments may be needed to attain proper balance. When everything is complete and your customer needs one, they are sent out in rugged shipping tubes so that they can be put to use in the fields of North America..
Also available: Auger Unloading Tubes, Auger Troughs, Auger Elbows, Auger Unloading Collars
Need more combine parts? Look no further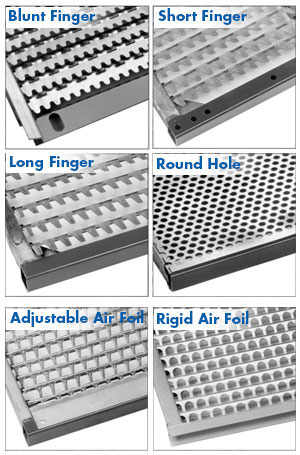 Chaffers & Sieves
Loewen Chatters & Sieves feature a number of improvements and innovations which provide durability, ease of adjustment and repairability. Frames and louvers are manufactured with galvanized material for rigidity and rust-free operation.
Easy To Set - Spring loaded indexed handles allow precise settings for optimum louver openings and air flow to match specific crop and harvest conditions. The special indexed handle makes it easy to return to the same setting.
Longer Lasting - Nylon adjustment arms and cushions in each wire hole improve adjustments and reduce friction, wear and breakage. Square front and rear tubes and welded in dividers add rigidity and strength to the chaffer.
Easy To Repair - Individual replacement louvers, nylon parts and wires make repairs easy - no need for torching and welding. Simply pull out the friction-fit wire, insert replacement parts and tap the wire back in place.
Chatters & Sieves are available in a complete range of original finger styles and air foil designs. Each option provides effective performance in certain crops and conditions. Which is the right one for you? The following are general guidelines to help narrow down the choices
Adjustable Air Foil - The unique, curved Air Foil louver design directs air virtually straight up, creating a cushion that floats material towards the back of the combine. High air volume provides a clean sample and helps to remove straw and stems. The adjustable air foil performs well in all crops, including grasses and small seeds. NOTE: Nat recommended far harvesting high moisture earn as silks may catch an fingers and cause plugging.
Rigid Air Foil - This non-adjustable top chaffer is pre-set for maximum performance under normal conditions. Best results in cereals and large seed crops. Loewen Rigid Air Foil Chatters also feature welded in dividers which add rigidity and strength, and retain even distribution on hillside conditions. NOTE: As chaffer is non­adjustable, control is limited to fan speed only.
Adjustable Blunt Finger - This bottom sieve is used in most crops.
Adjustable Short Finger - Top chaffer is recommended for small grains, rice, flax or small seed. Bottom sieve is used in corn and beans.
Adjustable Long Finger - Designed for corn, beans and most other large seed crops. Less plug­gong with cobs and debris will occur with this chaffer.
Round Hole - This bottom sieve is available in a variety of hole sizes and is specific to the crop being harvested. For use in crops from alfalfa and clover to beans and corn.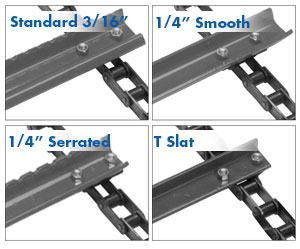 Feeder Chains
Loewen Feeder Chains are made from components that match original specifications and quality. Slats are bolted to the chain with 3/8" Grade 5 or Grade B hardware for easy replacement. Feeder Chains are made to original configurations with CA550 or heavy duty CA557 roller chain, with chrome pins on some models.
Standard 3/16" - Special lip-design increases strength and rigidity, reducing breaking and bending.
1/4" Smooth - Heavy duty for corn and beans.
1/4" Serrated - Heavy duty with serrations for more aggressive feeding.
T Slat - Same material as original and bolted to the chain.
Also available: Raddle Chain, Feederhouse Rock Drums, Posifeed Rollers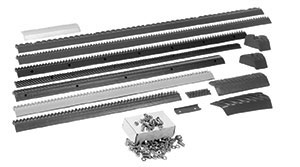 Cylinder Bars
All Cylinder Bars are carefully inspected and sets are matched for equal weight distribution on the cylinder. Mounting hardware is included for each set of cylinder bars.
Standard - Made of high carbon steel which matches the quality and performance of original bars.
Hardened - Can last 2 to 3 times longer than standard bars. The heat induction process hardens the teeth of the cylinder bar, leaving the base flexible.
Chrome - Lasting up to 4 to 6 times longer than standard bars, the hard chrome plating provides high performance and low maintenance. NOTE: Not recommended in rocky conditions.
Also available: Rotor Rasp Bars, Threshing Rotor Bars, Impeller Wear Bars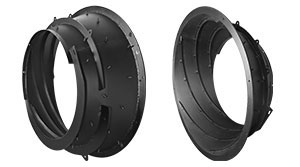 Rotor Transition Cones
Rotor Transition Cones are made from Grade 1045 high carbon steel and are designed with only one welded seam for less wear points and longer life.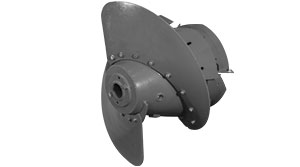 AFX Rotor Front Kits
Loewen AFX Rotor Front Kits feature smooth and even feeding, provide more consistent material flow, reduce horse power requirements and increase capacity.
Smooth, solid original style cone for even material distribution.
No recessed areas, which can cause material buildup.
Hardened leading edge on impeller inlet flighting for longer wear.
Loewen or OEM bolt on impeller inlet flighting make repairs easy.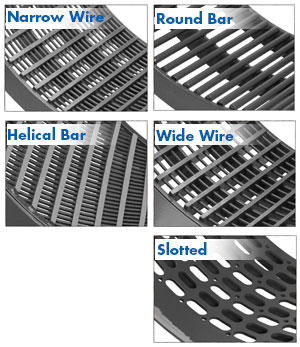 Concaves
All Loewen concaves are made to provide greater strength and durability. Cross bars are precision machined to a uniform height, providing an even edge for improved threshing and separating.
Narrow Wire Concaves - The Narrow Wire concaves are the standard choice for small grains such as canola, wheat, barley, oats as well as other cereal crops and fine seeds. Running perpendicular to the heavy-duty cross bars, the wires are spaced just wide enough to allow the small grain to fall through the concave while allowing the chaff to continue toward the rear of the combine. Narrow wire concaves are not recommended for use in corn


Wide Wire Concaves - The Wide Wire concaves are intended for corn (not reccomended above 25% moisture), soybeans and other large grain crops like rice, sorghum, and sunflowers. Similar to the narrow wire concave in overall design, the wide wire concave is equipped with wires perpendicular to the strong cross bars, but at a wider gap to allow more space for larger material to be threshed and for the larger grain to make its way down through the concave without plugging


Round Bar Concaves - The Round Bar concaves feature round cross bars and is void of wires. This differs from the square edged bars of the wide, narrow, and helical concaves. The round bar concave is a great fit to harvest field corn (even at levels above 25% moisture), soybeans, popcorn, and food corn. The round bar concave is also a suitable option for small grains, sorghum, sunflowers, and canola when used in conjunction with a helical bar concave in the front position


Helical Bar Concaves - The Helical Bar concave is often the solution when more aggressive threshing is needed. Since the cross bars and wires run diagonally in a helical bar concave, material entering the rotor strikes a helical bar concave at a right angle. This prevents whiteheads and unthreshed grain. This innovative concave can be installed in the front concave position when encountering tough threshing grain. If even more aggressive results are desired the middle concave can be replaced with a helical bar concave as well.


Slotted Concaves: Smooth surface reduces crop damage and improves feeding. For edible beans
Also available: Concave Cover Plates, Concave Shock Kits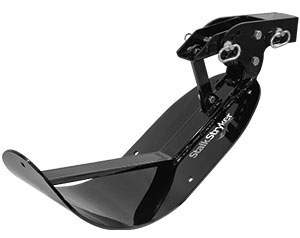 Stalk Stryker™
Loewen Mfg's Stalk Stryker™ levels corn stalks ahead of your combine. They force the corn stubble to the ground before it has a chance to puncture or cause wear to your tires or tracks.
Made from abrasion resistant steel, this 10" wide shoe assembly is designed to protect your tire/tracks from stalks and other field debris. The Stalk Stryker™ has 8 points of angle/height adjustment to meet your field demands. The shoe assembly has a single pin mounting system for quick and easy removal and can be fitted with a poly liner for better performance in muddy conditions. Stalk Styker™ can be mounted to Case-IH, Drago, Geringhoff, and John Deere corn heads