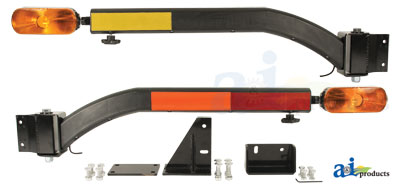 Stay visible with a new set of extremity warning lights
The A-WLHV44 extremity warning light kit is a great addition for your tractor or combine. The extendable arms reach from 36" to 52" with breakaway brackets. Each arm includes 5w LED bulbs for increase visiblity. The kit includes brackets and hardware for universal horizontal or vertical mounting. The front of each arm has ag yellow reflective tape with red and orange fluorescent tape on the rear side.
What's included
(2) Extendable arms with breakaway brackets
(2) 5w LED Bulbs per arm
Polycarbonate amber lenses
Universal mounting brackets and hardware
Power needs to be hooked to a flasher switch to make flash. If hooked to the existing in dash flasher switch, lights will flash simultaneously. If utilizing the A-LED90 flasher unit (1 per light needed), lights will not flash at the same time.
Additional Warning Lights