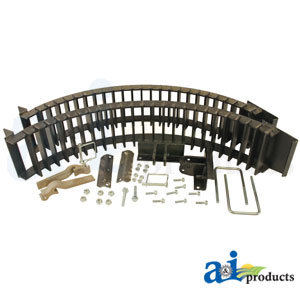 New John Deere Concave Insert Kit for Round Bar Concaves
While most of harvest is complete, we do want to let everyone know about A&I's new round bar Concave Insert Kit for additional threshing in small grains.  This kit comes with all components necessary for installation and is available for John Deere STS and S-Series combines. This kit provides additional threshing for small grain harvesting.
The A-BH84308 fits John Deere Combines: S650, S660, S670, S680, S685, S690, 9650STS, 9660STS, 9670STS, 9750STS, 9760STS, 9770STS, 9860STS, 9870STS, 9880STS.
Kit Includes:

Concave Bar Assembly
Latch Handle Pivot
Latch Bracket (RH)
Handle Lever

U-Bolt
Quick Latch Pin
Hardware Kit
Get your Round Bar concaves from A&I Products and Loewen Mfg
Round Bar concaves from Loewen Mfg feature round cross bars and is void of wires. This differs from the square edged bars of the wide, narrow, and helical concaves. The round bar concave is a great fit to harvest field corn (even at levels above 25% moisture), soybeans, popcorn, and food corn. The round bar concave is also a suitable option for small grains, sorghum, sunflowers, and canola when used in conjunction with a helical bar concave in the front position.