NEW CabCAM™ Camera Observation System Products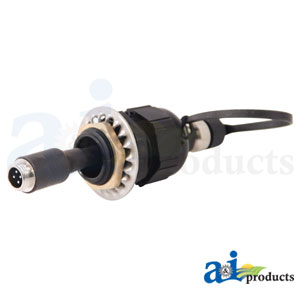 A-CWP340 CabCAM™ Bulkhead Connector Plug
Bulkhead Connector Plug for wired CabCAM™ applications. Can be installed in any wall. For any application including plastic & metal air seeder tanks.
Can be installed in material up to 3/16" thick
Sealing o-ring & washer provides an airtight seal
Weatherproof
Mounting hole requires 1" hole saw
Used with standard 4-pin Wired CabCAM™ cameras & accessories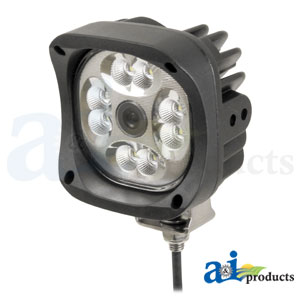 A-WL89CC CabCAM™ Flood LED Work Lamp/Camera Combo
Add lighting and video capabilities to your equipment simultaneously. The addition of LED lights provides a more illuminated viewing area than infrared with more accurate color reproduction on screen.
Features hollow mounting stud
Includes two universal mounting brackets
Weatherproof
8 - 5W Cree LED Diodes
3200 Raw Lumens, 2890 Effective Lumens
Die cast aluminum housing, polycarbonate lens
4.75" (120mm) W x 4.75" (120mm) H x 3.5" (89mm) D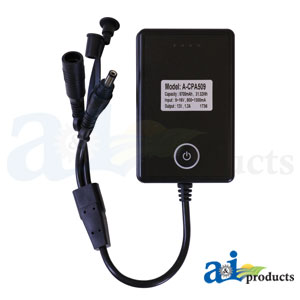 A-CPA509 WiRELESS CabCAM™ Rechargeable Battery
This battery now provides a total WiRELESS CabCAM™ experience. WiRELESS CabCAM™ cameras require a 12V power source. This simple compact battery eliminates the need for wired 12V power allowing more flexibility in installation and use.
Rechargeable, USB & 120V wall charger included
Holds up to 14 hours of charge (14 hours for wireless cameras. Actual time may vary. Use in darkness will consume charge quicker due to illuminator activation. Battery can be used with wireless monitors, holding up to 4.8hrs charge).
Weatherproof
Magnetic Mount
Recharge Time: 4hr via AC adapter, 12hr via USB
Temperature Range -4°~113° F (-20°~45° C)
4" X 2.5" X 1.625" (100mm X 64mm X 41mm)
A-MC110S 110° CabCAM™ Camera
This camera is a plug-and-play solution for 2017 and newer John Deere S-Series combines factory fitted with mounts and wiring for cameras overseeing the unloading auger, grain tank, and rear view.
Compatible with Greenstar 3 2630 & Command Center GPS
Direct plug & play
Mounting bracket features 4-hole bolt pattern for direct fitment
Includes all mounting hardware (not shown)
Weatherproof
Color video with audio, Image mirroring capable
110° Viewing Angle
Automatic Infrared Illuminators allow night vision to 32'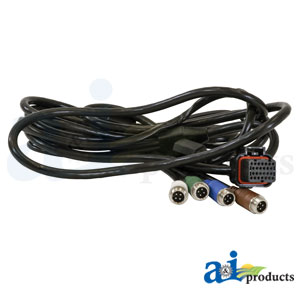 A-CBL4640 CabCAM™ GPS Adapter, G4 4640
This cable allows the addition of up to 4 CabCAM™ cameras to be used with a John Deere G4 4640 GPS display.
Connect up to four CabCAM™ Cameras
Direct plug & play
Includes power plug & plug for the back of 4640 display
Weatherproof
Easy to Install
Use with A-VS1C110 camera or any standard Wired CabCAM™ camera
Extended Power Video Cables available in 6', 10', 20', 30', 40', 50', 65', & 200' lengths
Used with standard 4-pin Wired CabCAM™ cameras & accessories.